NOTE: These spatial audio spaces are a sample app to demonstrate High Fidelity's Spatial Audio API. As such, these features may change over time.
Your Link
After signing up to get a High Fidelity space, you will receive an email with two links.
The first, shorter link, is what you should give out when inviting other people to join you in your space.
The second, longer link, is your Host Link, and should only be used by you and people you wish to have access to administrative tools in your space.
In essence, these unique links are a password to your High Fidelity space; anyone using them can enter. Take care only to give them to people you trust not to give them out to others without your permission.
If you need to have a space permanently deactivated, please contact High Fidelity support.
Closing Your Space to New Connections
In the Admin menu accessible when using your Host Link (see above), you will see an option that says, "Allow new non-admin connections to this space."
Disabling this feature is like shutting the door to your space. When the option's checkbox is unchecked, the space will not allow anyone to newly enter unless they are doing so via the Host Link.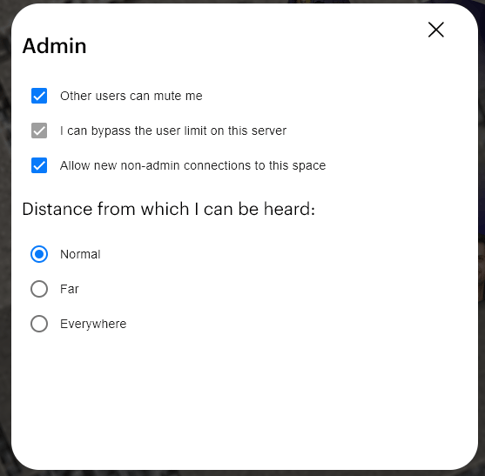 Remove
Also while accessing your space via your Host Link, you can temporarily removea guest out of your space. See What Is a Host Link and How Do I Use It? for instructions.
If you remove a guest out while "Allow new non-admin connections to this space" (see above) is unchecked, the removed person cannot return to your space.