You can stream audio into our sample app from either a PC or a Mac. Tips, plus instructions for two popular software programs, are found below.
First, make sure you have plenty of upstream bandwidth, ideally use a wired ethernet connection (not wifi).
1. Install Voicemeeter Banana: https://www.vb-audio.com/Voicemeeter/banana.htm
2. Open Voicemeeter Banana.
3. Set your Windows default output device to "VB-Audio VoiceMeeter VAIO".
Steps 4-8 are visually outlined in the image below.
4. At the top-left of Voicemeeter Banana, set Hardware Input 1 to your audio input device of choice (i.e. your microphone).
5. Route Hardware Input 1 to Virtual Input 1 by clicking the "B1" button underneath Hardware Input 1.
6. Route the left Virtual Input device, labelled "Voicemeeter VAIO", to A1 and B1.
7. Route the right Virtual Input Device, labelled "Voicemeeter AUX", to A1.
8. Boost "Voicemeeter Aux" to +12dB.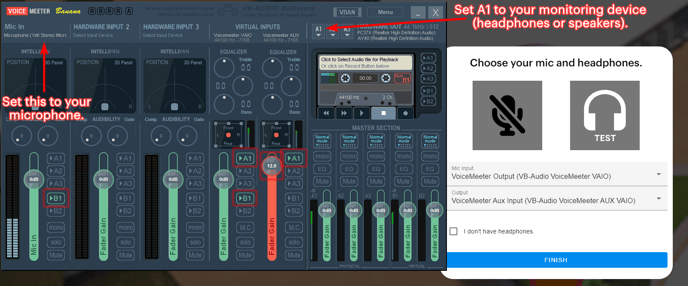 9. Navigate to High Fidelity using your space's URL. If you don't have a space, request one here.
10. During Audio I/O selection, set your input device to "VB-Audio VoiceMeeter VAIO".
11. During Audio I/O selection, set your output device to "VB-Audio VoiceMeeter AUX VAIO".
12. Play music from any source on your computer, i.e. Virtual DJ, Ableton Live, YouTube, Spotify, SoundCloud, etc. All audio that outputs through your monitoring output device will play for others in High Fidelity. The audio from your hardware input device (i.e. microphone) will also be broadcast through High Fidelity.
Be mindful of the fact that "all audio" includes audio like instant messenger notifications, email notifications, etc.
You will probably have to lower the volume from that source so that your DJing is not too loud to others in High Fidelity.
Voicemeeter Banana also has some helpful videos in their instructions.
Mac Instructions
If you're using a Mac, below are step-by-step instructions for how to stream music into your space using Logic as your DAW. You can do all of these steps and just replace Logic with your own DAW.
Open Logic and get your session and levels set in your headphones for your performance. Is the latency ok when you listen to yourself playing and singing through Logic? Since you are going to be wearing headphones, I want to make sure that the latency is not distracting. If you have too much latency, you might want to adjust your buffer size.
Download and install the paid version of Loopback.
Click through all the screens until you get to the window that looks similar to this screenshot below with two sections. The one on the left to create New Virtual Devices and the one on the right where you will add Sources for the new virtual device you create.

Click on the "+" icon next to "New Virtual Device." It will prompt you to name it.

Name it "Logic." If it didn't put you in name editing mode automatically, you can click the pencil icon next to the name. Next, we will create the Source.
In the Sources section press the "+" icon to create a new source.

From the drop-down list, select Logic.


Now that you have the Source created, click the small arrow to expand the "Options" in the Logic source module and uncheck if it is checked the "Mute when capturing" checkbox.

Now we are going to create the virtual device to monitor your space. Make sure to have Chrome open before you start.
Create another virtual device and name it Chrome.


Create a new Source in the Chrome Device by clicking the "+" button in the source section and select Chrome. With the two virtual devices created, you are ready to test in High Fidelity!
Navigate to High Fidelity using your space's URL. If you don't have a space, request one here.
The spatial audio space will ask you to select your input and out devices. For your input you will select "Logic" and for your output "Built-in Headphones" or whatever the name is of the headphones that are plugged into your laptop.


Leave Automatic Echo Cancellation off/unchecked unless you are monitoring through your speakers.
Click "Next", then enter your name and click "Ready" and we should be good to test.
Test Your Setup
Whether you're using a PC or Mac, you should do the following to make sure your audience is going to have the intended experience:
Check your sound levels by joining the space from another device, or another new tab on your browser. Move your avatar around to see how the levels are at various distances from the avatar you have set up with the audio streaming.
If other people are planning to listen from your physical location, test with all of them listening at once to make sure you have enough bandwidth for your event.