As remote work evolves, the friction that comes with distributed work becomes more painful.
Team members get 20+ Slack messages a day, and only get to answer a few.
You walk away from your computer to get coffee and find you missed a Google Hangouts call.
You take 20 minutes trying to find a conversation you had with a co-worker a few weeks ago in one of 50 channels.
For remote teams, this is pretty par for the course. And as remote work becomes the standard for many companies, communication is becoming more and more fractured.
Since members of our team work remotely, we've experimented with many of the most popular communication tools out there. While there's a few that can actually make remote work more challenging, we've used a few tools successfully and find that they can make distributed work easier.
These Are The 9 Best Communication Tools for Remote Teams in 2019
The best collaboration tools for remote teams are fresh, innovative, and support simple but meaningful communication. They offer advanced virtual and audio capabilities. With these tools, you can seriously limit friction that comes with remote work, such as messaging fatigue, communication lag, and virtual clutter.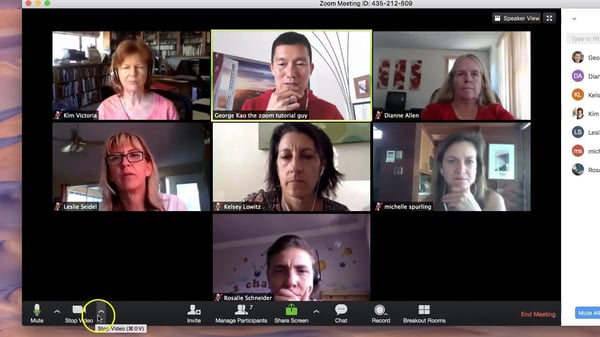 [Source]
1. Zoom
Zoom is a web video conferencing platform that a lot of teams use to hold meetings. It's one of the better substitutes for face-to-face interactions, and it's free to get started. You can also record and store meetings.
Features:
Video conferencing + in-conference chat
Screen-sharing
Call recording
Best For: Zoom is ideal for distributed and in-house teams that require larger conferences, webinars, or meetings.
Pros: With Zoom, you can create custom meeting links, host webinars, and hold larger conferences.
Cons: Users say that there are notable glitches in recording and playback, as well as occasional low video and audio quality.
Cost: $14.99 - $19.99 monthly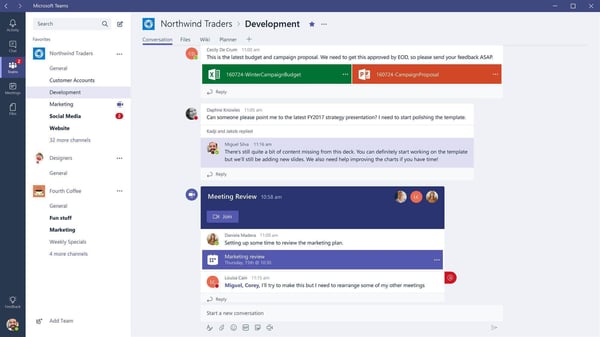 [Source]
2. Microsoft Teams
Microsoft Teams, which is similar to Slack, is a collaborative communication tool where you can chat, create channels, and run your day-to-day correspondence.
Features:
Integrations with other Microsoft tools
Chat and messaging
Audio calling
Meeting scheduling (links to Outlook)
Best For: Microsoft Teams works well for companies and startups that primarily use Microsoft products and need one central messaging app.
Pros: Users love that Microsoft Teams integrates with MS 360, making it easy to keep everything connected.
Cons: However, Microsoft Teams is difficult to use alongside any tool that isn't by Microsoft, such as Google Docs.
Cost: Free to sign-up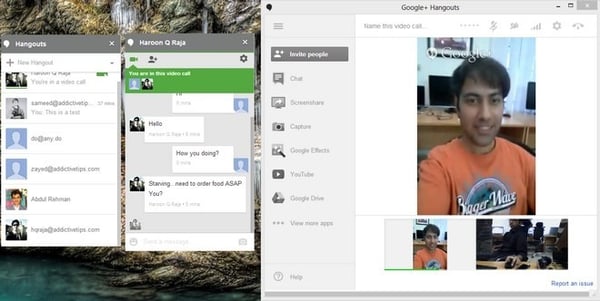 [Source]
3. Google Hangouts
Google Hangouts is a popular platform for communication. It's easy to start using, especially if you're already using Gmail and other Google Apps.
Features:
Messaging and video calls
Google application integrations
Best For: Google Hangouts is a good instant messaging tool for all team sizes, in-house or remote.
Pros: Since Hangouts integrates with most Google apps, you can access it right in your Gmail inbox. Many users have it for professional and personal use, installing it as a plug-in on desktop and downloading the app to their phone.
Cons: Hangouts is too similar to instant messaging or texting and is only designed for casual conversations.
Cost: Free to sign-up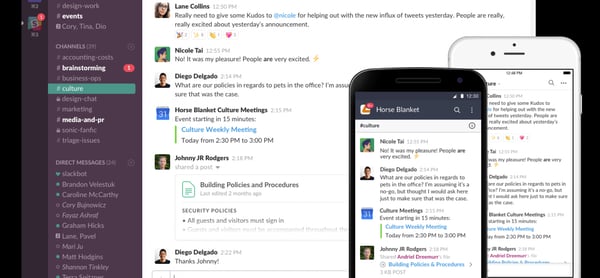 [Source]
4. Slack
Slack, one of the best communication tools out there, is known for its intuitive UX. Many teams use it as a virtual HQ, and where they primarily share files and integrate tools.
Features:
One-line messaging
Ability to use integrations and plug-ins
File-sharing
Create separate channels
Best For: Slack is a great tool for all team sizes, whether they are working in-house or remote.
Pros: Slack has a sleek, modern interface that users love. It's easy to install and get started with. You can add apps and integrations such as Zoom, Github, and Google Drive. Teams can also create channels for everything from marketing communication to somewhere to share memes.
Cons: Slack is designed for one-line-at-a time communications, so users get overloaded with messages, experience notification fatigue, and important context is lost.
Cost: Free to sign-up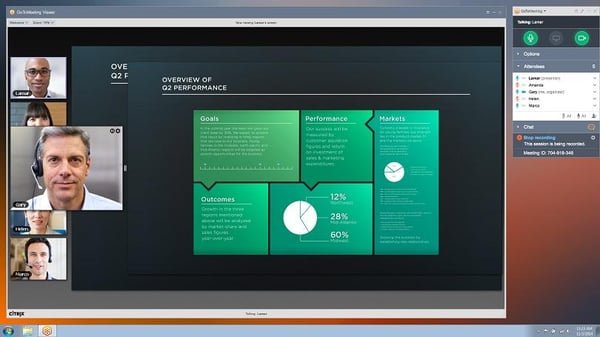 [Source]
5. GoToMeeting
GoToMeeting is a web conferencing tool specifically built for business. Users can collaborate effectively with clear audio, visual, and on-screen drawing tools, then later, use automatic transcripts for meeting notes.
Features:
Video conferencing with 25 high-definition video feeds per session
Chat
Toll-free calling
Personal meeting rooms
Best For: GoToMeeting works for all team sizes, in-house or remote.
Pros: GoToMeeting is designed for companies, so it's great for meetings. One of their newest features, Smart Meeting Assistant, also transcribes calls automatically.
Cons: Users report sporadic issues with audio and inconsistencies between using GoToMeeting on Macs versus PCs that can add complications for users.
Cost: $14 - custom pricing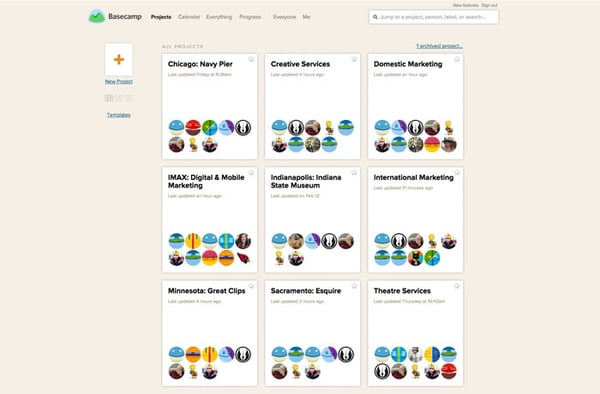 [Source]
6. Basecamp 3
Basecamp (version three), is a massively popular project management tool. It's great for large teams with a lot of ongoing projects and tasks.
Features:
Task management
Chat and messaging
File sharing
Document management
Milestone tracking
Best For: Basecamp 3 is a good fit for medium to large teams working in-house or remotely.
Pros: If you need to improve your team's ability to organize projects and provide updates on deliverables, Basecamp is great for managing milestones and tracking timelines.
Cons: Users report challenges with transferring and maintaining documents.
Cost: $99/month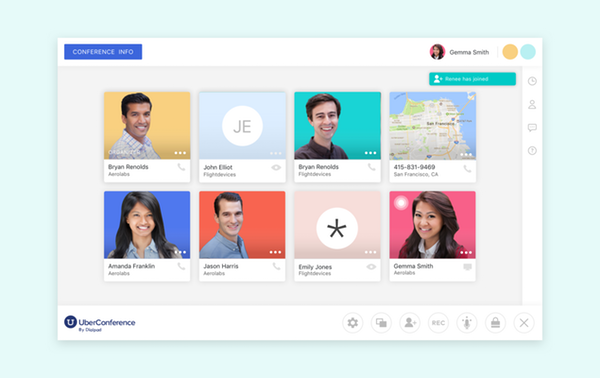 [Source]
7. UberConference
UberConference is a free, minimal video conferencing tool for teams that need a no-frills, easy to use platform.
Features:
Conference calling
Screen-sharing
Record and playback
Mobile access
No pins required to join calls
Best For: UberConference is good for both mid-size to large in-house and remote teams.
Pros: The UberConference platform is intuitive to use. You can easily to log on and start a meeting right away.
Cons: A lot of users report that there can be connectivity issues, such as screen-sharing not working properly. You also must use Chrome to screen-share.
Cost: $15/month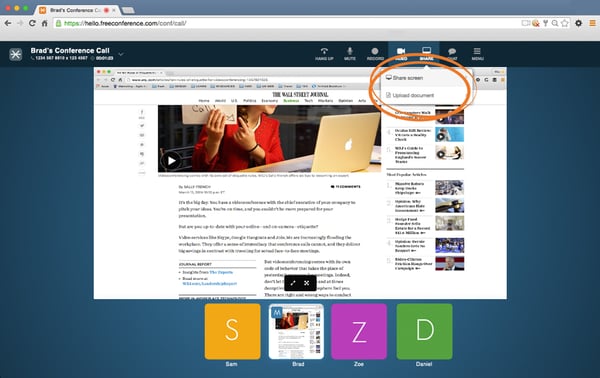 [Source]
8. FreeConference
Similar to UberConference, FreeConference is a pretty straight-forward web conferencing tool. You can get a link and join a meeting immediately, which makes it an ideal tool for people looking for something simple.
Features:
Conference and video calls
No hidden charges
Best For: FreeConference is a useful resource for small teams and freelancers.
Pros: For users that want a no fuss web conferencing tool, FreeConference is a good fit. You can log in and launch a meeting for free.
Cons: If your team needs something more robust, FreeConference will be too limited with features.
Cost: Free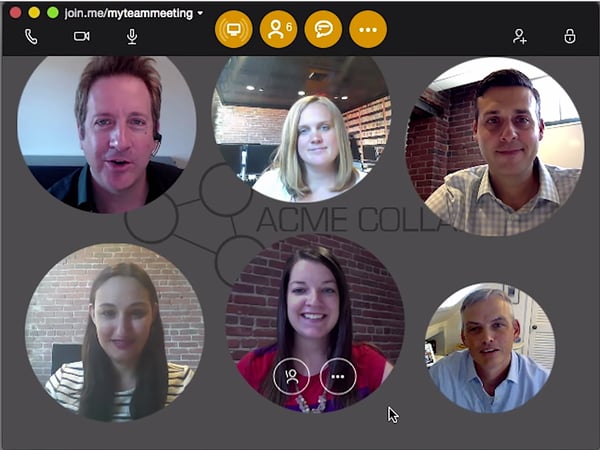 [Source]
9. Join.me
Join.me is another straight-forward web conferencing tools with minimal features. You don't need to download any software — log in from your web browser and get started.
Features:
Easy conference and video calling
Screen-sharing
Customizable URL and background
Best For: For small to mid-sized teams, Join.me is a decent option.
Pros: Join.me is simple to use and has an intuitive interface, so no training or onboarding is needed.
Cons: Users report that there are issues with video and audio, and the tool is difficult to integrate with Google Calendar.
Cost: $12/month for lite
Adopting The Best Communication Tools For 2019 And The Future
All of these communication tools are fine for remote teams that want to stay connected, although none are a substitute for the kind of fluid conversations that happen in an office. Imagine if you could virtually tap someone on the shoulder or approach a co-worker from anywhere in the world. It would make remote work so much more collaborative.
Thankfully, as remote work evolves — even more technology will emerge that makes your team feel like they're in the same room.