As a remote team, communication is critical.
Without the right combination of remote collaboration tools to help your team do their best work, you're going miss opportunities with your productivity. You need the conversation to be fluid with the right processes in place. And to facilitate the best possible communication between remote workers, you also need a great mix of technology.
If you're using tools that don't carry their respective weight and make collaboration easier, it can make everything feel more fractured. It's a careful balance, and for remote teams, it can be a challenging one to strike.
The Best Tools for Remote Teams in 2020: Creating The Ideal Software Stack
The best tools for remote teams integrate and work together, making it seamless for teams to work in unison. That's why it's critical to create a software stack that helps your remote team collaborate and meet your overall business objectives.
To accomplish this, every platform must fulfill a unique purpose and serve a specific goal.
In our experience, a few of these tools include: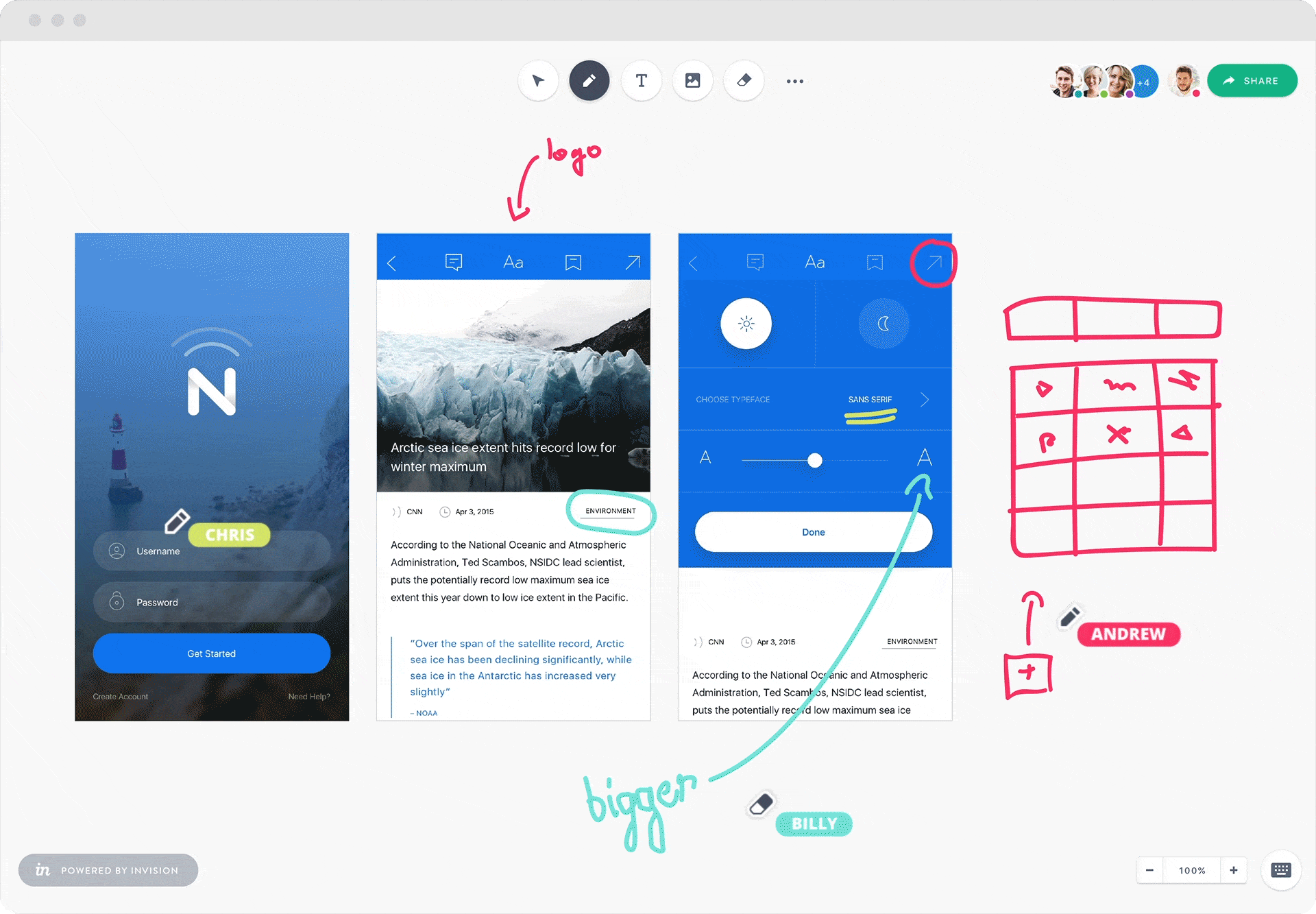 Source: InVision
InVision: Design
InVision helps teams work together collaboratively on design projects. You can upload creative work, such as screenshots or mock-ups, and collect feedback from your team. This helps streamline a critical part of the design process. You can also upload updated revisions and drop them in over the older file without losing your older feedback.
The whiteboard feature in InVision is also good for wireframing, designing, and making presentations.
"I like that the program deploys different design formats when making a prototype," says Hector, an InVision user. "The screen on which you work is interactive and can be modified to be easily understandable and manageable with the team."
G2Crowd Rating: 4.5/5
Resources: Webinars, Free Design Resources, Podcast, E-Courses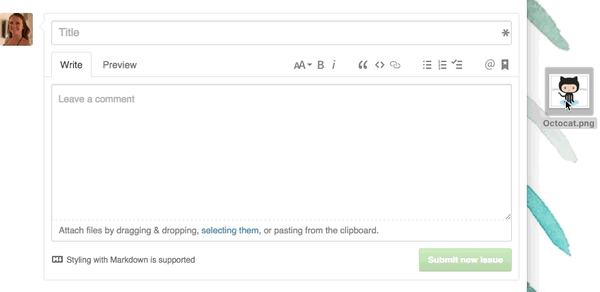 Source: GitHub Help
GitHub: Development
GitHub is the perfect tool for hosting code and managing development projects. That's why it's ideal for remote team collaboration. GitHub also has a ton of events that remote workers can attend in major cities. Overall, the platform makes it a lot easier to connect with other developers.

"Github provides the code of most of the open-source application," says Milan, a software engineer, and Github user. "If we don't want to share our code as public, then we can create a private repository. The best part about Github is its attractive user interface followed by the integration with a lot of third-party services."
G2Crowd Rating: 4.5/5
Resources: Learning Lab, Community Forum, GitHub Education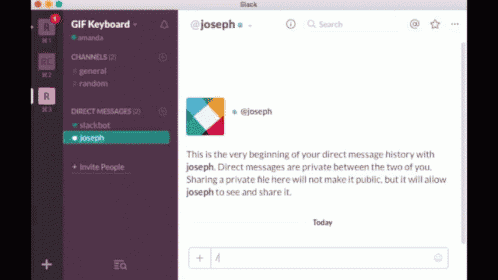 Slack: Communication
Slack is one of the most popular remote communication tools out there. With Slack, you can create channels, share files, and add a ton of apps and integrations. It's a great resource for remote teams. The ability to use Slack to achieve a lot of different objectives, such as improved communication and collaboration, is what makes it such a versatile tool.

"We primarily use it to send documents, communicate, and assign tasks, but we also have a lot of fun with it," says Melanie, a Slack user. "I love how easy it is to use and how you can get notifications on your mobile device as well. It also connects to your Google Drive to easily import documents."
G2Crowd Rating: 4.5/5
Resources: E-Books, App Directory, Blog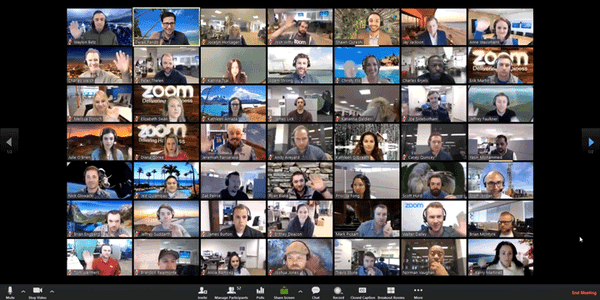 Source: University of New Hampshire
Zoom: Web Conferencing
Zoom is an enterprise video conferencing tool that a lot of teams use for virtual meetings. You can use Zoom to screen share, run webinars, post polls, and record meetings.
"Zoom has turned out to be one of the best tools for video conferencing, holding and joining meetings remotely and easily," says Mohammed, a Zoom user. "It also has a very friendly and neat UI, allowing newbies to adjust and fall in love with it in a short time."
G2Crowd Rating: 4.5/5
Resources: Webinars, App Marketplace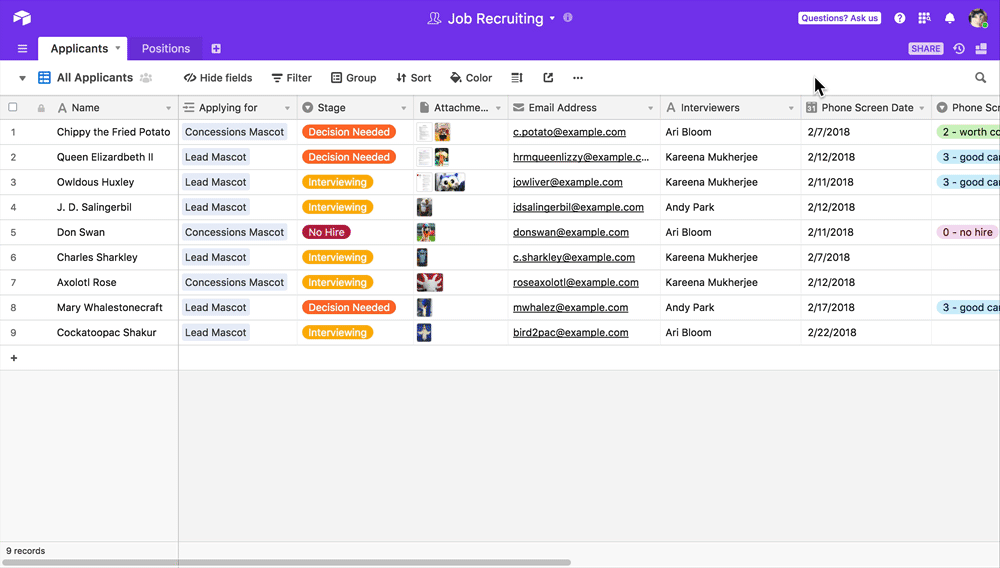 Source: Airtable Support
Airtable: Task Management
Airtable, an interactive collaboration platform, gives users a spreadsheet where they can organize projects and track deliverables. A lot of teams use it to conduct task management and run timelines.
"Airtable is a beautified spreadsheet. We use it for project management and also for some lightweight content management," says Julien, an Airtable user. "I like that the ramp time was easy, and the tool is easy to use. It took a bit to figure out our own strategy with project management, but through all the changes, Airtable was able to keep pace."
G2Crowd Rating: 4.6/5
Resources: Templates, Universe
Mastering Communication And Collaboration For Remote Teams
The goal of any software stack is to help your remote team communicate and collaborate better. The tools above can all get you there, but they are not perfect solutions by any means. As remote work continues to evolve, teams are going to need more and more from their tools.