Finding the right collaboration tools can be challenging, especially for remote organizations. You need technology that makes it easy to connect from anywhere in the world... but these platforms can be difficult to find. Despite having strong features, many tools simply aren't built for remote work.
However, there are resources out there that serve remote teams well. With one or more of these platforms, you can reduce a lot of friction that lowers productivity and morale.
The Top 29 Team Collaboration Tools That Help Remote Teams Connect And Create
Different collaboration tools serve various types of projects. Depending on your team, you may need tools for:
Communication
Content and Notes
Project Management
Coding
Many of our team members work remotely, so we've tried out a few platforms. Here are some that work well for us, as well as other distributed teams.
Communication And Messaging Tools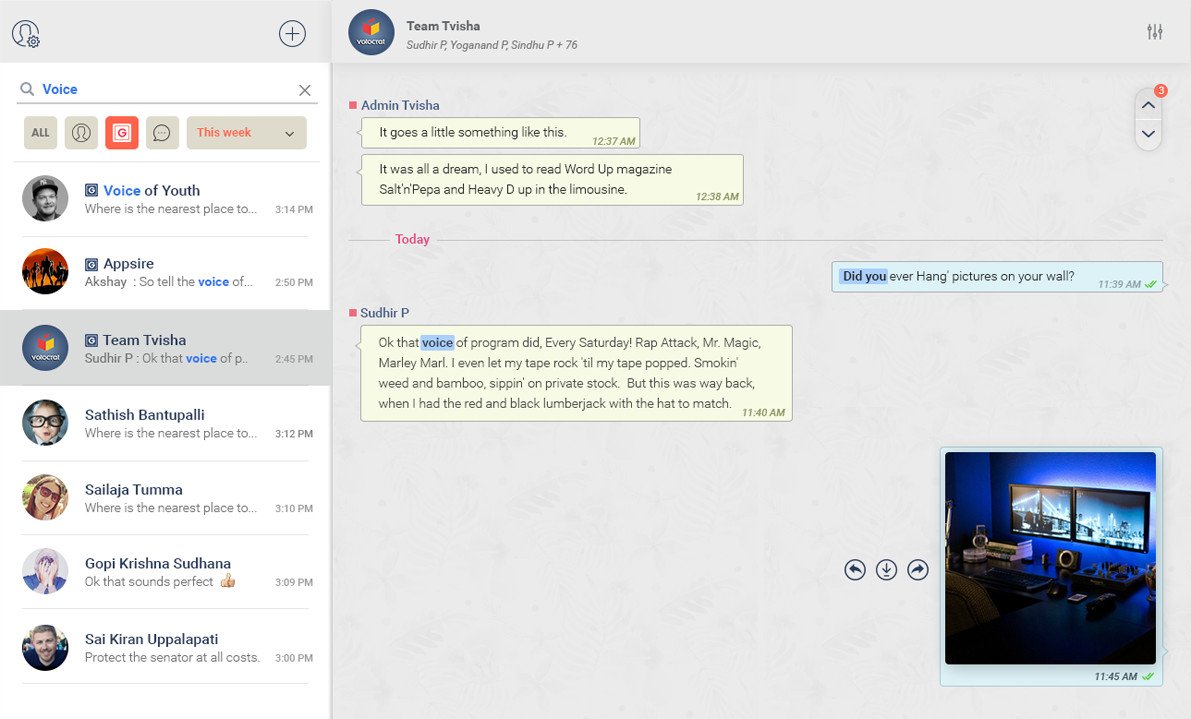 Tripathi Nair uses Troop Messenger instead of Slack. Nair, a freelance editor and writer, calls Troop as an "excellent and powerful real-time messaging app, with a rich collection of settings and options."
You can search for users and conversations, recall messages, and place video and voice calls.
Louis, a lead purchaser, used Flock for over six months and found a lot of benefits. The "seamless and easy to use interface has many advantages," says Louis. Louis lists the integration with Trello and social apps as highlights of using Flock. The communication app offers team messaging and additional project management features.
For highly communicative teams, Chanty, an AI-powered team chat, is an excellent option. It's "great for team communication," says Vladimir, a quality engineer in the information technology and services industry. "It's a simple, convenient, and functional tool that helps my team to stay productive every day."
MindMeister is a cloud-based, mind mapping application. Teams use it to create virtual mind maps for presentations and brainstorming. "The first thing that attracts in this program is the speed of the interface," says Akina, an accountant, and MindMeister user. There is "well thought out the design side: the final projects are stylish and concise," she says.
Before Ryver, Joshua's team was using Slack, Telegram, WhatsApp, and WeChat to communicate. "It's been a great one connection point to rule them all," he says. "We looked around for a single solution, and this is what we came up with."
The all-in-one group chats, task manager, and workflow automation platform is great for teams looking to limit their tools.
For Clarisse, a plant support engineer and user, CA Flowdock was a game-changer. "CA Flowdock integrates my conversations, emails, sources, alerts, requests, and notifications in a single control panel," she says. Integrations are available for project management, customer support, and deployment tools.
Loom is a free screen recorder for Mac, Windows, and Chromebook. It's an exceptional tool for creating quick videos for content and communication. "I use Loom several times a day in my work as a strategic storyteller and experience designer," says Mike Wittenstein from Storyminers.
"Sometimes, I'll walk a client through a proposal, report, or a deliverable, adding some color along the way so that they get extra value from what I've provided to them in print or on-screen."
Rocket.Chat is a free open source chat software. Teams can customize Rocket.Chat, making it a strong alternative to Slack or Hangouts. Jesse, a Lead Web Developer, agrees.
"Rocket Chat is, in my opinion, the best alternative to Slack that is available today," says Jesse. "The best part about Rocket.Chat is that you can install it on your own local servers, so you're not reliant on someone else storing your data on their servers on the internet."
Content and Notes Platforms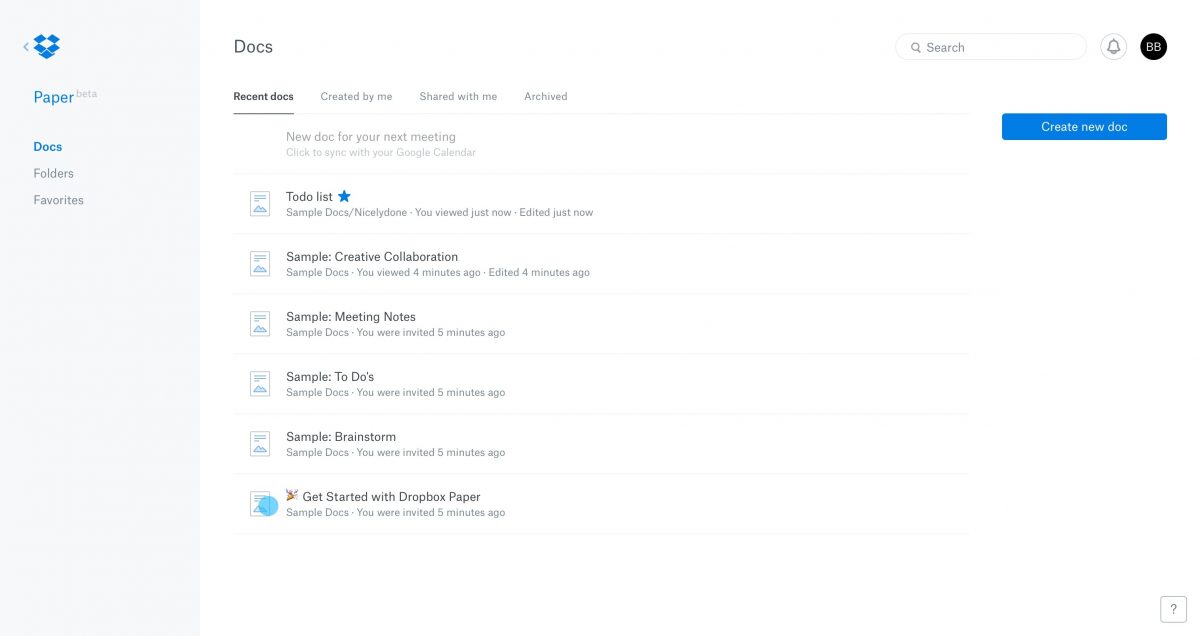 Dropbox Paper, a free product from Dropbox, is an incredibly useful collaboration tool. William from Realizador likes to use Dropbox Paper to work with other users in real-time. "It allows me to access functions such as version history and suggestions, which makes it possible to work on a file without needing to be contacted," says William.
Teams can store and collaborate on essential documents. You can also integrate Paper with your calendar, so you never forget to take meeting notes.
With ProofHub, you can create boards, reports, timesheets, and Gantt charts. For many users, a few advantages to the cloud-based online project management software include the ability to assign tasks and create workflow stages.
"ProofHub has unified all our communications," says Matt Cooper from InsideOnline. It "brought our internal teams together and made everyone accountable for their time in order to work smarter."
For many remote teams, Google Docs is the golden standard of collaboration tools. "I like Google Docs simplicity and real-time collaboration," says Jamie, a user that works in marketing and advertising. "I can get quick approvals for text docs, and we don't have to use Skype or email in order to share docs."
With Trello's boards, lists, and cards, you can organize projects in a visual, compelling way. It's easy to get an overarching view of your projects and how they're progressing. And since Trello is so versatile, people from a variety of industries are able to get a ton of use from it. Daniel, content creator at an agency, says, "Trello is a great team management tool that considerably streamlines the work."
Project Management Tools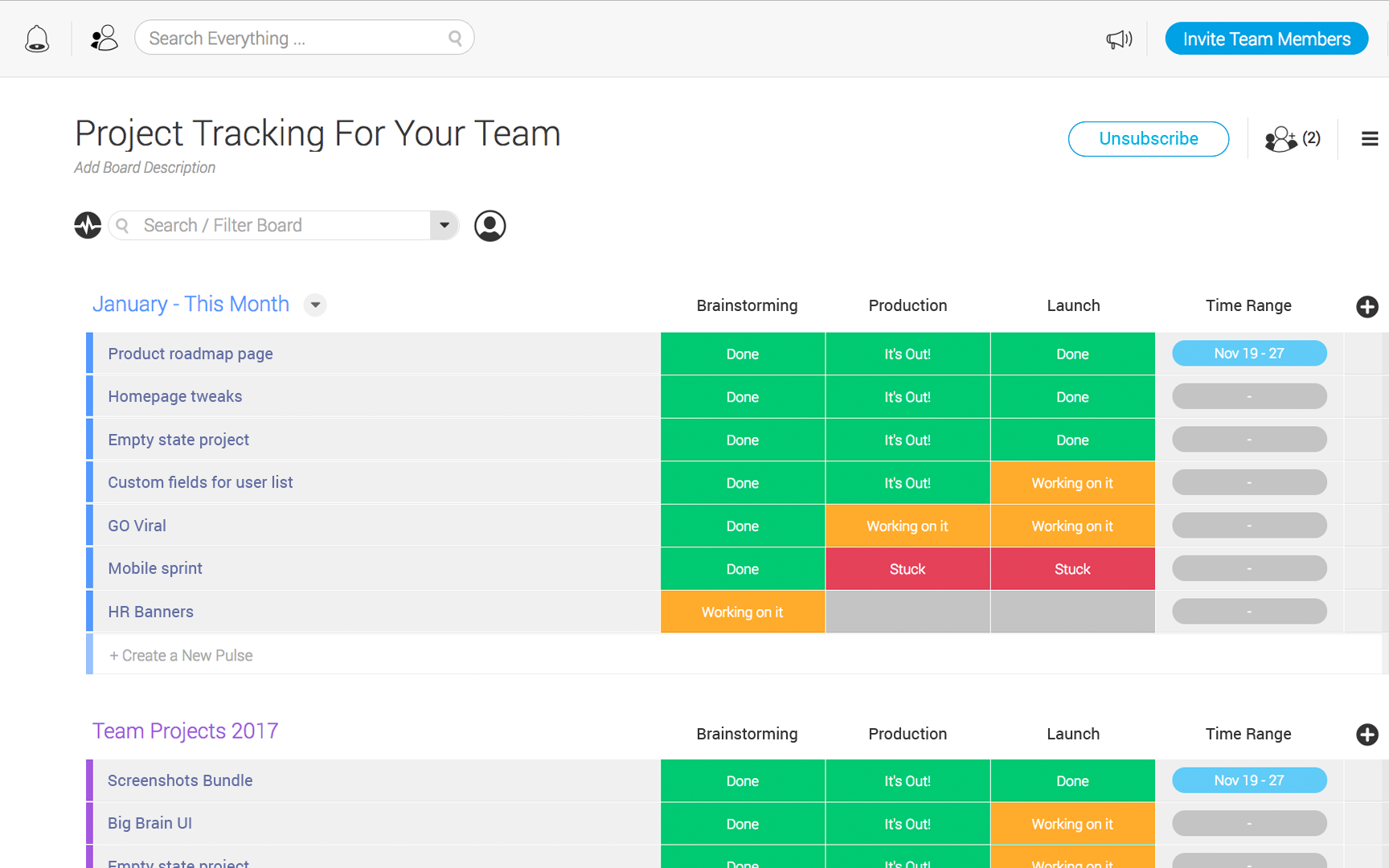 Monday.com is a collaborative project management system. For fast-paced teams, Monday makes it easy to update tasks and projects. For example, Jeff, a software application specialist, calls the ability to add notes to pulses as "a life-saver." "I can track ongoing, important information related to each item," he says.
It's perfect for organizing blog content, running project timelines, and providing task updates.
Wrike is a project management tool that makes it easy to plan, execute, and deliver projects. You can easily build out folders and create Gantt charts while tracking time right to the task. Prince, a project manager, describes Wrike as a capable tool for project management at their small company.
"It is very simple to create hierarchical structures for large projects, from major milestones down to minute tasks," says Prince.
Citrix Podio is a flexible project management tool. Teams can set up workspaces and manage workflows easily within the platform. As a result, Podio helps reduce time spent organizing and managing tasks. Ryan Brock of Metonymy Media, for example, now spends less than an hour a day on project management.
GanttPRO is an intuitive Gantt chart software that serves project management and planning needs of individuals as well as small, medium, and large businesses from different industries. It has a short learning curve so even new remote workers can dive into projects right away without training.
"Elegant and easy to use tool which makes managing a complicated project visually appealing and easier to manage tasks and interdependencies," says Michael Peri, a Global sales manager at Cyxtera Technologies.
Design and Presentation Platforms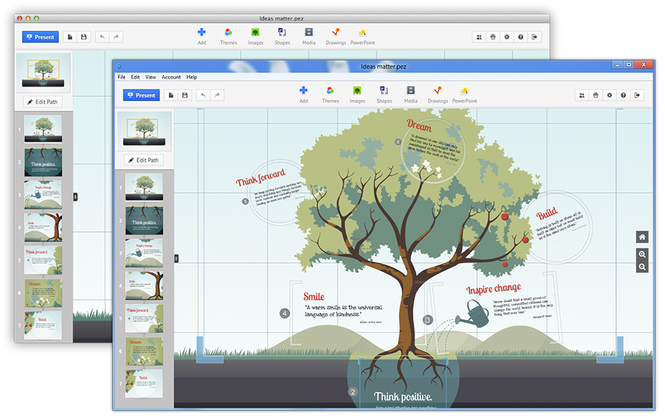 Prezi is an interactive presentation tool with hundreds of templates. You can build custom slides for meetings and conferences, making it a useful resource for teams that regularly gather feedback. "I consider it to be the best presentation program since it offers an excellent platform and different functionalities and characteristics that allow us to capture ideas and information in the best way possible," says Eduvimar, a Prezi user.
Swipe is an interactive presentation tool. You can use Swipe to make meetings highly collaborative with polls, interactive buttons, animated gifs, and more. "Swipe has transformed how we share information with our investors, partners and brand sponsors," says Babette from BakeSpace.
Canva is an all-in-one design tool teams use to generate custom graphics. The platform is cloud-based, which makes it simple to access and edit creative. There is a business version of Canva, but you can start for free.
"Canva offers a quite a lot in the free version of the software, what I love most is the functionality wrapped in a beautiful web app," says Diana, an avid Canva user. "You can create images that are sized for different social media channels like Pinterest, Facebook, Twitter, Instagram."
With InVision, you can upload creative files for review. Team members can leave comments and feedback right within the document. Later, you can reupload a newer version of the file to InVision and still have access to older comments. It's a helpful way to manage your review process.
"The easiest way of describing it would be a lightweight and more intuitive version of After Effects that outputs completely interactive prototypes to the web," says Drago, an InVision user.
The tool "greatly reduces friction between designer and developer and client," he says.
iDoc is an online design collaboration tool for UI designers and front-end developers. You can create interactive prototypes, artboards, as well as import documents and designs. From there, you can use Mockplus iDoc to present plans to stakeholders, coworkers, and clients.
It's a "perfect place for developers and designers to communicate and gather feedback," says Lee, a Mockplus iDoc user who recommends the platform.
Hightail is a robust design tool that streamlines creative reviews. You can annotate on creative, assign tasks to team members, and send client-ready previews. With Hightail, teams can decrease the amount of time spent in review. Before getting Hightail, Abbey, a project and public relations manager, admits her team's review process was less than ideal.
"Communication and collaboration have been a challenge," she says. "We are utilizing Proofhub to find a more cohesive way to work together."
For designers, Sketch is the ultimate design toolkit. You can link artboards, add animations, and turn static screens into clickable prototypes. Despite being a robust tool, "Sketch still feels incredibly lightweight to me," says Ashley, a Sketch user.
"As a UI designer of a number of years using Adobe tools such as Photoshop and Illustrator, switching to Sketch felt like switching from a sledgehammer to a feather – how could UI outcomes possibly be this high-fidelity and not cause the bloat of 100, 200MB+ file sizes?"
Coding Tools and Resources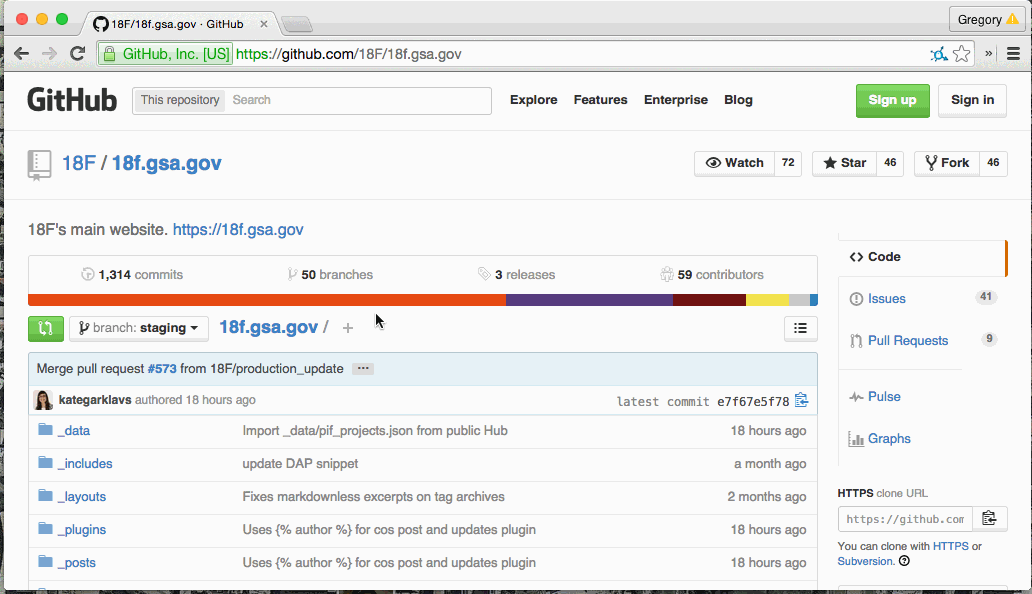 Github is a perfect code and source code repository for a git platform, says Samridh Shrestha. The social collaborative development platform makes it "so much easier to push the code, manage it, have multiple collaborators and do proper version control," says Shrestha.
On Github, users can also contribute to public projects. The platform has a large following, making it a great place to connect with other developers or find local events and workshops.
GitLab is a single application for the entire DevOps lifecycle. With GitLab, teams can plan projects and easily manage code. "Our team has been using both GitLab and its main competitor for a number of years," says Peter, a GitLab user. "We use GitLab when our projects require a slight bit more fine-tuning and control over our repositories."
Peter expresses grievances with ease of use, but says that "GitLab easily offers the ability to hide reports and projects from public view, something its competitors rarely do for free."
GitBook is a modern documentation platform. Using GitBook, teams can document their internal knowledge-bases, APIs, and products. "The best part about Gitbook is that it is very team-oriented which works if you are working in a company which involves a lot of collaboration," says a GitBook user.
"You can all lay out your thoughts and responses in an organized and efficient fashion, and everything is very easy to learn, even for beginners."
Atlassian Sourcetree is a robust Git and Mercurial desktop client. "The best thing about SourceTree is its simple and very easy to use GUI," says Jagat, a technical lead.
"Any Git commands like pull/commit/push/fetch are just one click away. One important feature which I like the most and is helpful to any developer is that you can stash your existing changes locally before taking pull of a branch."
Sass is a professional grade CSS extension language. Brands such as StackShare, Airbnb, and Asana use Sass within their tech stacks.
"As far as stylesheets go, we had to choose between #CSS, #SCSS, #Sass," says Julien, a full stack engineering manager, and Sass user. "We finally opted for Sass. It's as syntactically awesome as the name announces it."
Gulp is an open-source toolkit. Developers use Gulp to automate otherwise monotonous development tasks in a development workflow. "Builds can be the most awful sinkhole for teams to waste their time with," says Eric, the Co-founder of stae. It's "a serious win for any project."