Right now, there are two popular messaging app choices: Microsoft Teams and Slack. Both tools offer the same solution, which is smoother communication for teams. Due to the similarities between the two, it can be challenging to gauge the better fit.
However, there are real differences between the platforms, and the decision of which to adopt is important. With the right communication tool, you can improve how you collaborate. The wrong tool can complicate your processes and set you back.
In this article, we'll compare the differences between Microsoft Teams vs. Slack and how you can choose the right platform for your team.
Microsoft Teams vs. Slack: How They Stack Up
Now, the comparison between Slack and Microsoft Teams isn't even. We can't do an apples-to-apples review of the platforms. But overall, here's how they stack up and where each platform shines.
UX And Display
Slack and Microsoft Teams look similar design-wise. Each has a panel on the left-hand side with channels, where users have conversations. You get basic one-line messaging. You can add emojis to messages, share files, and make audio and video calls.
There is one feature that offers a different experience: the search.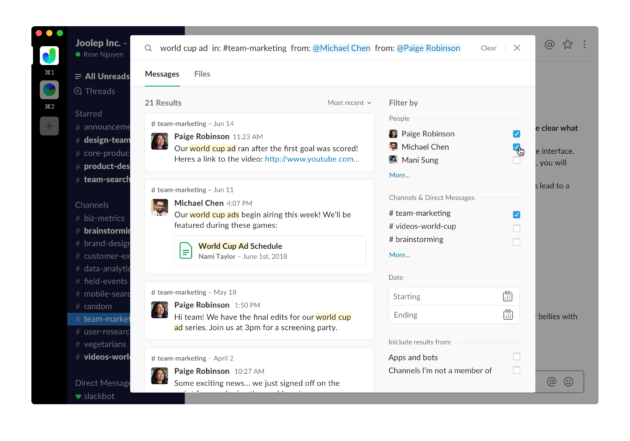 Source: iMore.com
Slack has a less robust feature. Any user can tell you it's difficult to find what you're seeking with the search. If you need to go back to a conversation or find a file, you need to know what words or phrasing were used. Otherwise, it stays buried.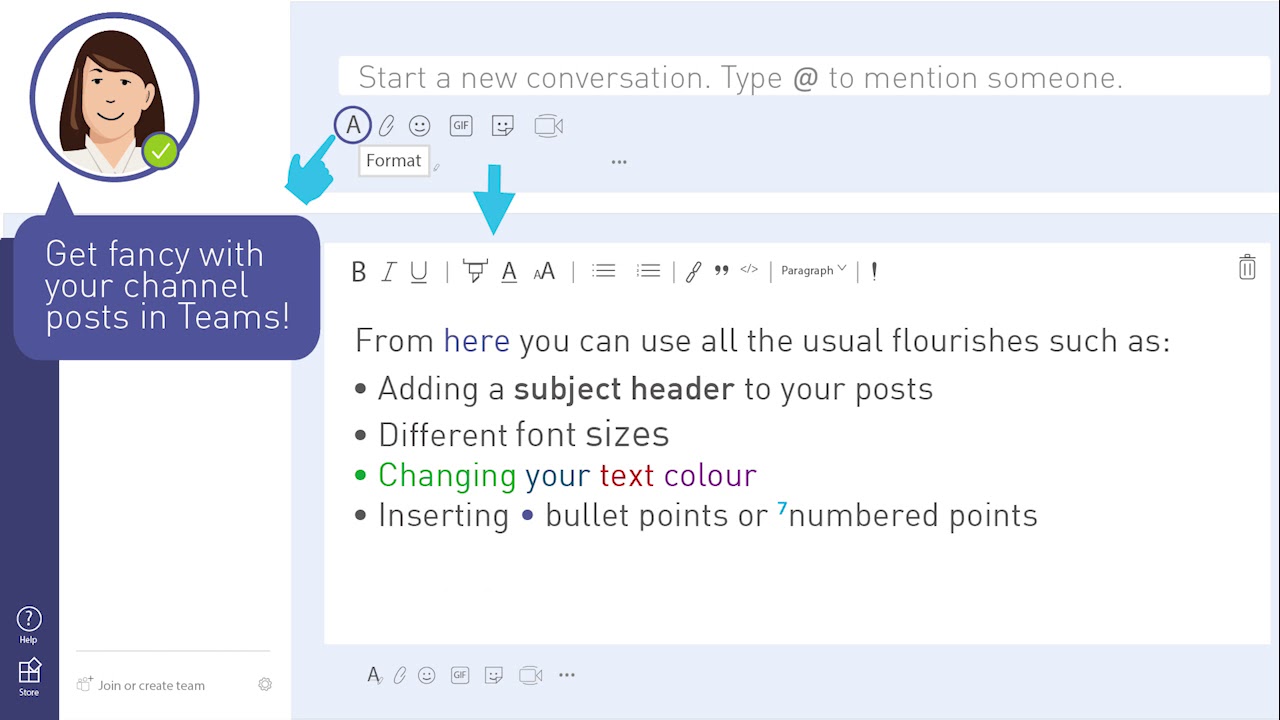 Source: Modality Systems


With Microsoft Teams, users can search by a question, user, topic, or meeting. You can also add subject lines to posts, which helps with finding conversations later.
Bots
Chatbots can be really useful for streamlining communication. With Slack, you automatically get Slackbot, which you can use to set notifications and reminders. You can also build your own bot or choose from a list of bot integrations. Many bots serve a very specific purpose.

Source: Get Slack
For example, GameMonk has fun games to help boost morale. GrowthBot is a HubSpot tool that can answer marketing and sales questions. Hubot is a scriptable chatbot from GitHub.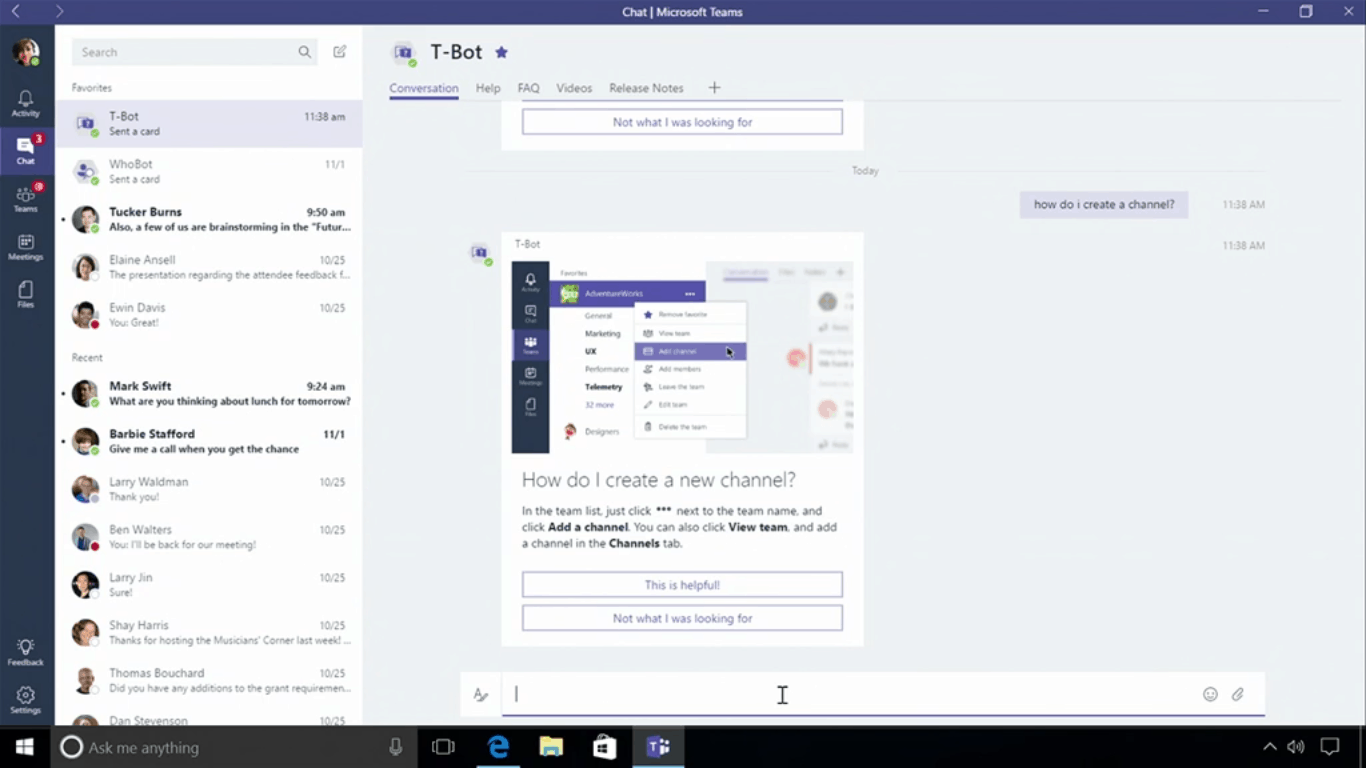 Source: On MSFT
With Microsoft Teams, you will have a similar experience. You can build a custom bot or choose a bot from the store. It comes standard with T-Bot, which learns over time and acts as the interface of the platform.
Support
Both Slack and Microsoft Teams have strong customer support teams and online support centers. With Slack, you can contact the team over email, live chat, or phone. There's also a robust customer support center.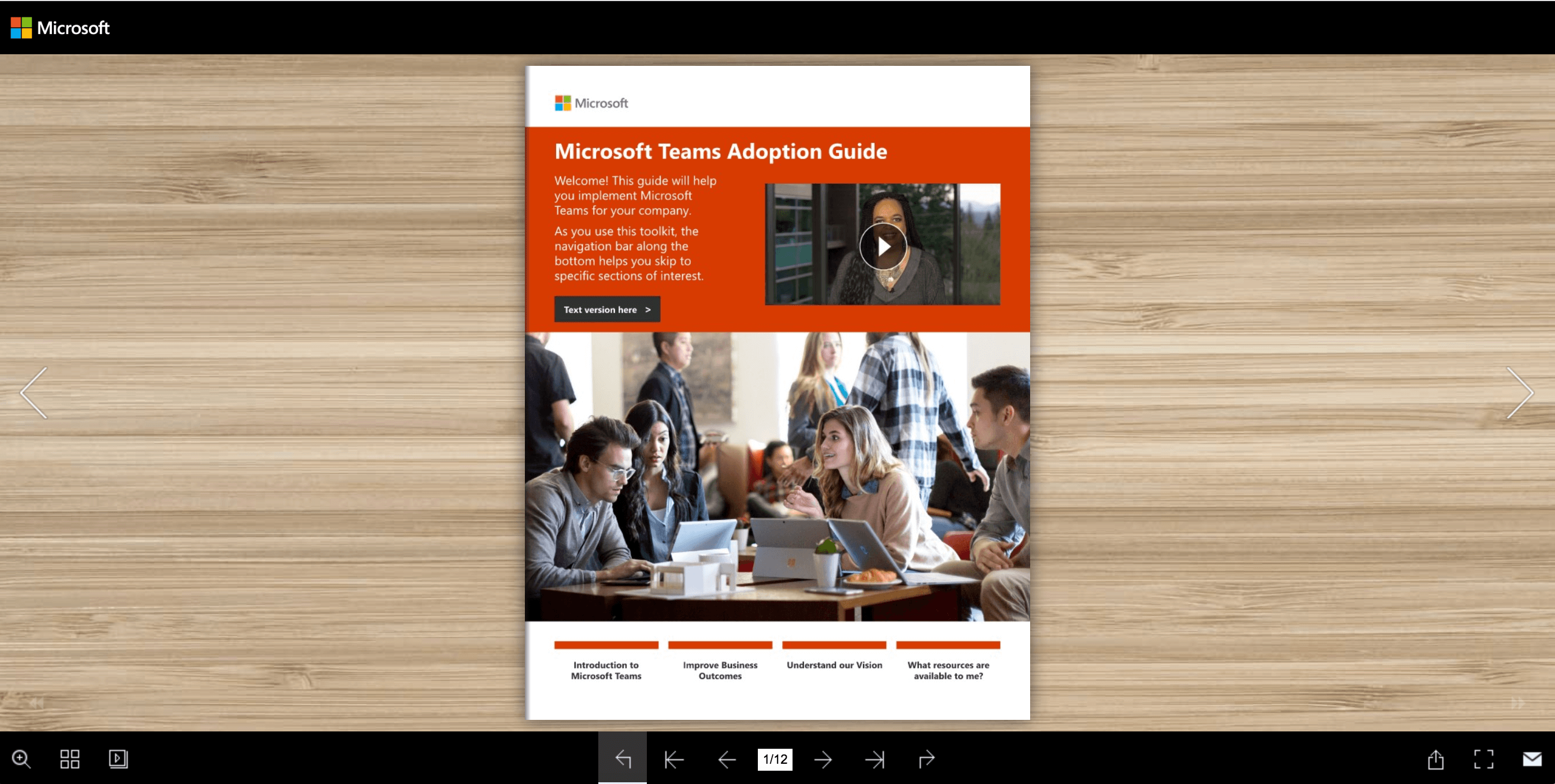 Source: Microsoft Teams
Still, Microsoft Teams has them beat. With Microsoft Teams, you can take live, online instructor-led classes. There are specific videos and content for onboarding, such as how to build channels and teams. You can also use their interactive guide. Overall, Microsoft backs Microsoft Teams, so you're going to experience a higher quality of support.
Video And Chat Capabilities
Both Slack and Microsoft Teams offer audio and video calling alongside one-line messaging. However, Microsoft Teams is the better choice for highly communicative teams because Skype is built into the platform. It makes for a more reliable video conferencing tool. You can also record meetings and access more advanced chat formatting.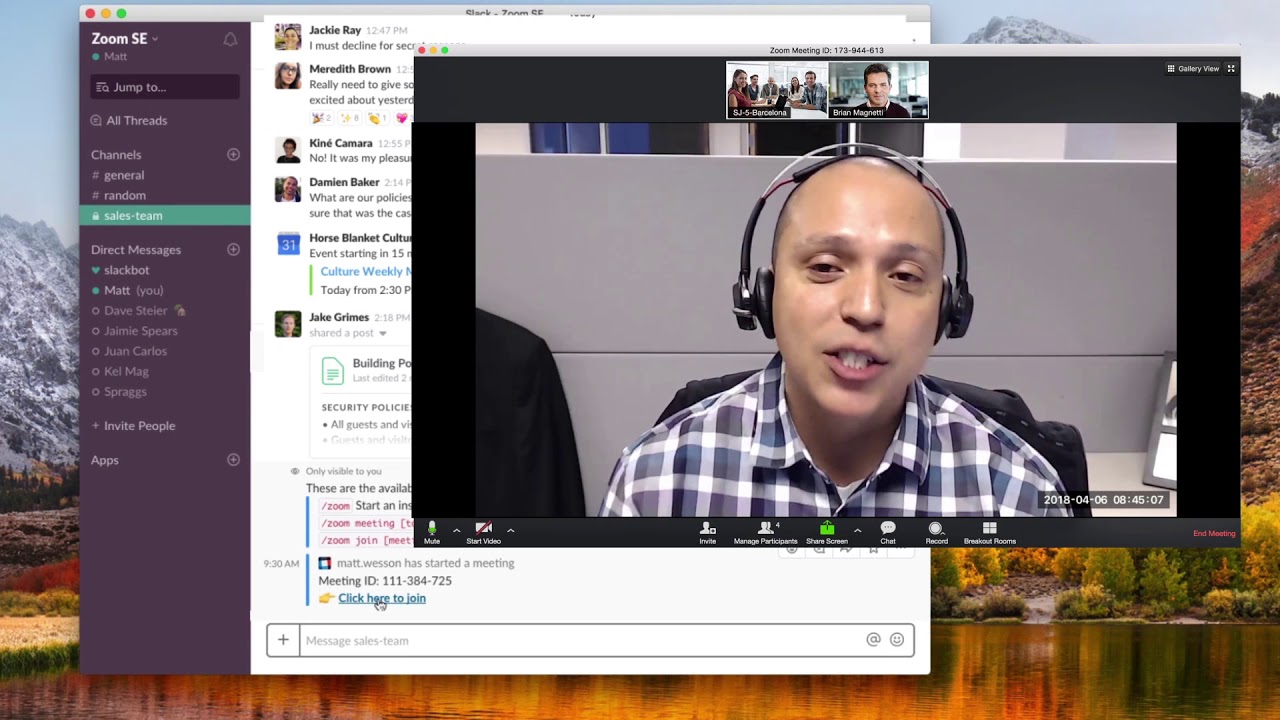 Source: Slack
With Slack, the features are limited. You can format messages, but it's not as intuitive as Microsoft Teams. You can screen share and make annotations, but the audio and video quality of calls can be unpredictable. You can integrate Zoom and GoToMeeting into Slack, which may make your communication smoother.
Security And Compliance
Due to the volume of conversations and potentially sensitive data, Slack and Microsoft Teams both have secure platforms. They encrypt their data and require two-step verification for users.
Slack recommends best security practices like removing old users, being cautious about adding third-party app integrations, and granting appropriate admin roles.

Microsoft Teams is built on the Office 365 hyperscale, enterprise-grade cloud. There are more robust security features such as E-Discovery, legal holds, and data location. The platform is also Tier D-compliant.
Integrations
Both Slack and Microsoft Teams offer an array of integrations. Teams can connect their select platform to marketing automation systems, calendars, project management systems, and more.
Source: Fleep.io
Slack
A few select Slack integrations include:
You can also browse through integration categories for HR, finance, productivity, design, file management, and more. You can also build a custom API.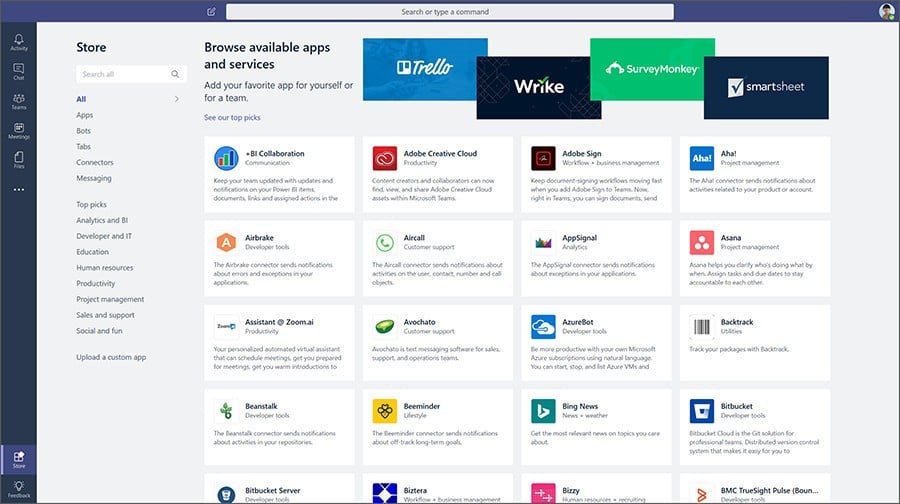 Source: Windows Central
Microsoft Teams
Microsoft Teams has an advantage over Slack, as it connects to Office 365 apps. You can also integrate:
There are categories for analytics, artificial intelligence, customer service, internet of things, and operations. Once you install apps and integrations, you can access them with a series of commands and actions.
Fun Stuff
Microsoft Teams and Slack both have fun features for teams. You can respond with gifs and react with emojis. In Slack, you can even create custom emojis, such as pictures of your team members. You can also add custom messages to the load screen.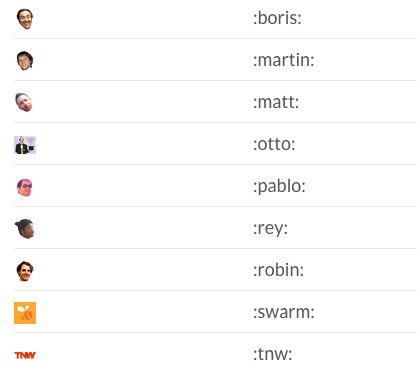 Source: The Next Web
You can also use either platform to boost team morale. With Slack, you can install bots that tell jokes, let you play rock paper scissors, or plan lunch outings. Microsoft Teams offers apps like TINYpulse and Karma that send weekly surveys to gauge morale.
The Best Communication App For Your Team
In our experience, if you need a more robust, secure communication app, Microsoft Teams is a good choice. And if you have Microsoft's Office 365 productivity suite, you can use Microsoft Teams for free.