What gives modern remote teams an edge?
It's not great benefits or fancy perks. It's not having the ability to work from an exotic location (while for many, that's definitely a plus). At the end of the day, the thing that gives remote teams an edge is the ability to source top-notch talent from all over the world.
When you align this talent with the right systems and valuable tools, productivity and creativity skyrockets.
7 Remote Working Tools That Best Support Distributed Teams
With the best remote tools, you can implement technology and systems that keep your operations running smoothly and your team working in unison. In our experience, these types of tools all share a few common characteristics:
You can easily transfer and organize your files.
It's intuitive to give feedback and direction on projects.
It's not difficult to communicate and connect with peers.
Here are some of the remote working tools that actual remote teams are using to achieve this high caliber of teamwork.
1. WeTransfer
WeTransfer provides a simple solution for large file sharing, with a maximum of 2GB per transfer for free. It makes sharing videos, .pdfs, podcasts, and other large assets a snap. Using their new collect feature, you can also save ideas from all over the web.

Lori, a long-term WeTransfer user and advertising supervisor, uses WeTransfer to keep her team informed with critical files that exceed the capacity of other tools.
"This website is extremely helpful for transferring any and all types of files," she says. "In media, we work with a lot of large files for creative assets or planning decks. These need to go back and forth between co-workers and clients constantly."
2. Zoom
It's not perfect, but Zoom is a relatively easy tool to hold meetings and webinars. You can dial in from your phone or access it from your browser, making it an easy-to-use video conferencing tool. The all-remote team at Zapier uses Zoom to hold video calls, set up recurring meetings, record the session, host webinars, and more.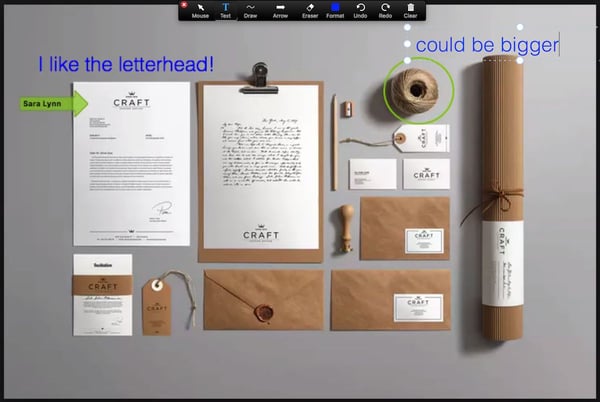 Source: IMAGE
But one of the most innovative ways that Zapier uses Zoom is for annotation sessions, which are critical for the team to collaborate.
"Annotation tools let all the meeting participants draw and highlight what's on-screen, which can be immensely helpful when discussing visual materials, such as mock-ups, graphic designs, and so forth," says Jill Duffy of the Zapier team.
3. G Suite
A lot of teams use Dropbox, but G Suite (also referred to as Google Drive) is often the higher ranking storage tool on most review sites. It's not difficult to see why. With the entire G Suite, you can access Google Docs, Sheets, and Slides from anywhere. It's simple to leave feedback, all of your revision history is saved, and you can share files with anyone.
The flexibility makes it a great option for remote teams.

Sarah, who works for a remote non-profit organization, uses Google Drive to collaborate on documents with her distributed team.
"Most of my colleagues work in different sites across the Los Angeles area. It is immensely helpful to be able to share documents with them and work on them simultaneously."
4. Canva
For teams that deploy a lot of creative for social media, blogs, and other marketing material, Canva is an excellent tool. You can access Canva from anywhere and even build and reuse design templates with relative ease.
The best part? Canva isn't built for designers, but for anyone, so you don't need strong artistic skills to put together near-flawless creative.

Amber, who uses Canva to work with a remote team, says Canva's "pre-set text blocks with fonts, sizes and scales assigned makes designing quick and beautiful."
5. Basecamp
Whether or not you have a remote team, Basecamp is an exceptional project management tool. You can use Basecamp to improve your team's communication and organization, making it easier to track the progress of projects and deliverables. You can set different projects for different teams, and set up timers, reminders, and deadlines to keep everyone on track.

"I'd like to define it as minimalist and versatile," says Raul, a Basecamp user. "The program is simple to use but at the same time quite powerful for a business platform. The fact that you have the facility to organize different work groups, each specialized in a specific sector and interacting at the same time quickly and efficiently caught my attention."
6. Twist
Twist is a new web messaging app that makes it easy to organize and find conversations. One of the key differentiators of Twist is the ability to decrease messaging fatigue, with more options and features that make it easier to track ongoing threads and conversations. You can also integrate Twist with tools like Todoist, and make communication even more streamlined.

Brian, a communications director, credits Twist for being less complicated than Slack. "What I like the best about Twist is how clean the UI is, it's beautiful, and the conversations are readable as well as the notifications not being annoying like in Slack."
If you're still interested in Slack, however, you can compare Slack vs. Microsoft Tools. Both tools are popular and functional for most remote teams but have different strengths and weaknesses that might be better for your team's communication style and needs.
7. Monday.com
Monday.com is one of the newer task management tools on the market. It has a ton of flexibility and it's perfect to manage almost any kind of project. With Monday, you can customize your workspace, and easily find tasks and deliverables with their intuitive grid layout.

Marie, a Monday user, says it's best for remote teams because of the clean, modern interface and overall ease of use.
"We are using Monday at Dockyard Inc., as a project management tool. It helps us keep people on task and meet deadlines. They have excellent visual templates to use and build according to the best option they see fit. It is a great customizable tool that has given us a track of the progress of the tasks in an effective way."
Choosing The Right Remote Tools
You're only as strong as your team. The best leaders understand this and invest heavily in the resources they need to keep teamwork flowing. Your technology isn't everything, but it's a major component of what keeps teams on pace.