Busy couple of months here at High Fidelity. We've shipped Beta Release 84 and 85, launched an avatar creator app and expanded office hours. Our open source community members have debuted fantastic performing arts projects and our virtual workplace users have helped us gear up our beta platform with new functionality. There's a lot of hard work to be recognized here, so let's dive a little deeper into all the action.
Open-source VR Beta Release 84 and 85 Released
Beta Release 84 came out on September 23. New in this release is Acoustic Echo Cancellation (AEC), a default setting that improves voice quality by preventing echo from open mic setups. Thanks to user HifiExperiments we've improved performance when any entity needs to be re-rendered. We've also improved a number of other rendering issues, including entity rendering on low-end PCs and performance of Interface's rendering pipelines. Read our full release notes here.
Beta Release 85 was just released on October 17, and some highlights include our new free look camera, selfie mode, and updated computer default audio. Improvements and fixes were made to avatars, cloud domains, the create tool, build system, audio, and more. Read our full release notes here.
Office Hours Expand to Seven Days a Week
Due to the popularity of our Office Hours, we're now holding these events seven days a week. Got a question about the Create Tool, 3D assets or Blender 3D? Whether you're a new user or advanced VR enthusiast, we're here in hifi://maker to help. Here's the new schedule:
Monday: 1-2 p.m. PT / 8-9 p.m. UTC
Tuesday: 9-10 a.m. PT / 4-5 p.m. UTC
Wednesday: 9-10 a.m. PT / 4-5 p.m. UTC and 1-2 p.m. PT / 8-9 p.m. UTC
Thursday: 9-10 a.m. PT / 4-5 p.m. UTC
Friday: 2-3 p.m. PT / 9-10 p.m. UTC (Dedicated to selling and submitting items to High Fidelity's marketplace)
Saturday: 9-10 a.m. PT / 4-5 p.m. UTC and 1-2 p.m. PT / 8-9 p.m. UTC
Sunday: 9-10 a.m. PT / 4-5 p.m. UTC and 1-2 p.m. PT / 8-9 p.m. UTC
Be sure to check our events calendar for the most up-to-date schedule.
Loveseat Debuts at Venice Film Festival
In other community news, can we talk about Loveseat? Hopefully you got to catch a performance before the show wrapped on Sept. 7. Director Kiira Benzing is a master of blending theatre, hybrid camera and VR, and Loveseat is no exception to her world-building ability. Loveseat is a romantic comedy performed simultaneously in front of a live audience at the Venice Film Festival and an audience in High Fidelity — it might be the first live play ever to simultaneously capture virtual and real world audiences. The show grew out of High Fidelity's partnership with Alive in Plasticland, which began back in March of 2018 after Alex Coulombe (Lead Artist) and Philip Rosedale spoke about a shared desire to see High Fidelity's platform used for scripted theatre. We're delighted to see creators producing such stunning work with High Fidelity.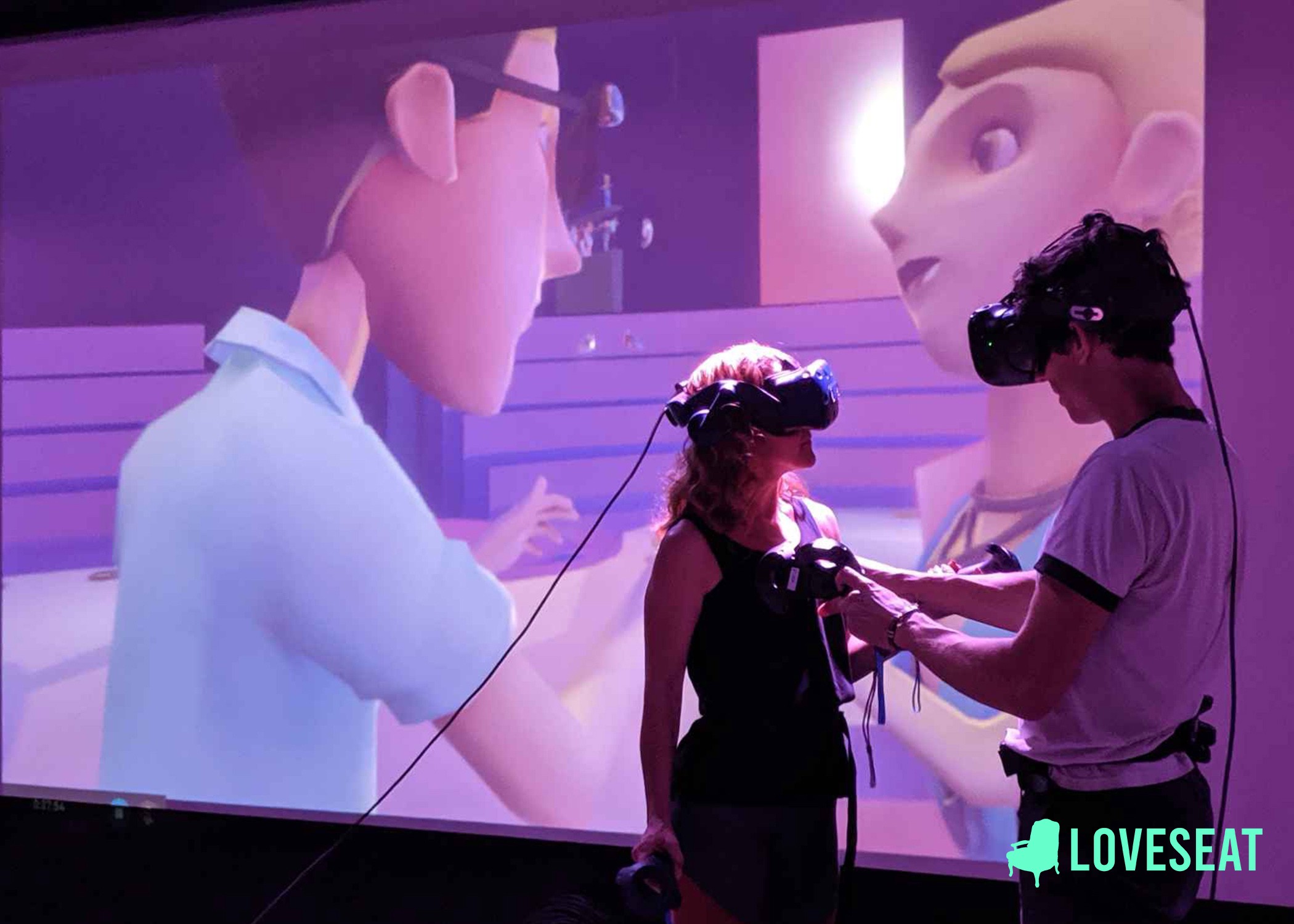 Image credit: Double Eye Studios.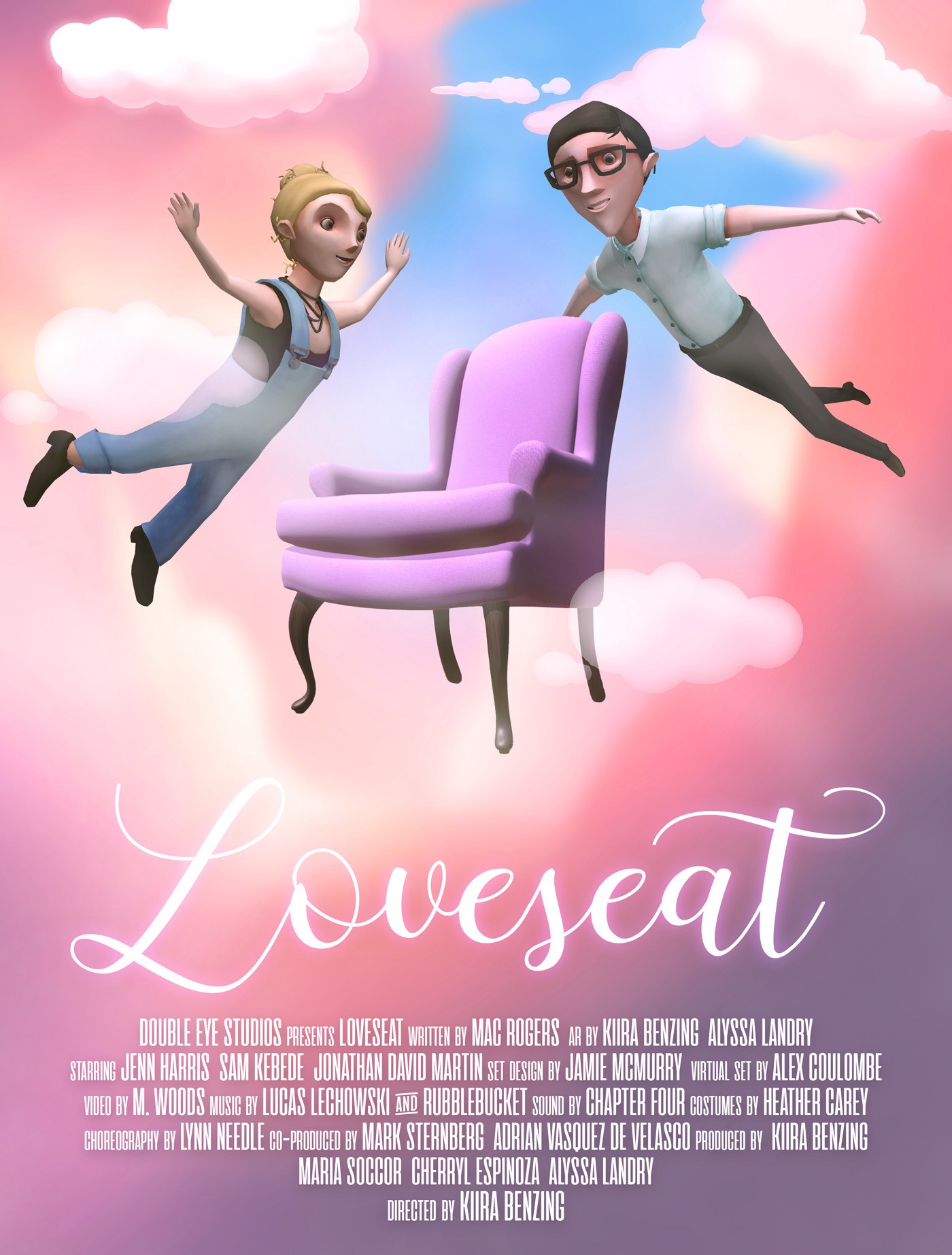 Image credit: Double Eye Studios.
Avatar Creator Mobile App Now Available
In other company news, we launched "Virtual You: 3D Avatar Creator" for iOS and Android. It's never been easier or faster to make an avatar for High Fidelity applications. Making a look-a-like avatar only takes three steps:
Take a selfie (the app converts the 2D image into a 3D avatar).
Customize the avatar to your heart's content. Tweak your clothes, facial features and more.
Send your avatar to High Fidelity and explore the virtual world!
If you've created an avatar with Virtual You, feel free to share it with us on Twitter (@HighFidelityVR) and use hashtag #AvatarChallenge.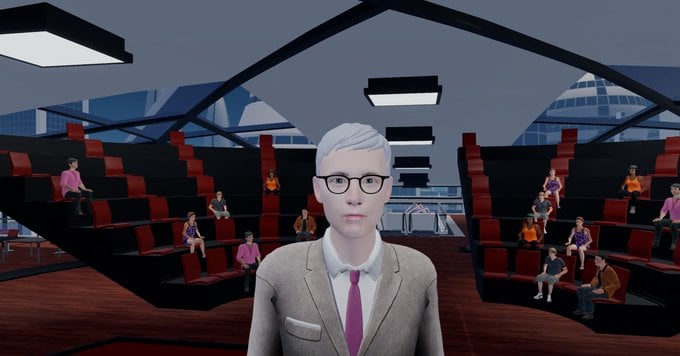 Image credit: Bruce Thompson via Twitter.
Full Steam Ahead for Virtual Workplaces
We developed the idea for the avatar app while piloting the use of High Fidelity for remote work use cases. Our desktop private beta application has now been tested by dozens of teams and we've logged thousands of hours in-world as these groups worked in a virtual environment. We recently re-designed the virtual workplace environment based on user testing feedback to optimize the space, plus added more emote functionality for avatars. If you work on a distributed team and are interested in trying it out, we'd love to hear from you. Request early access here.
Over the summer, we've built features and showcased use cases for entertainment and remote work. These efforts have given us valuable feedback and strengthened our core capabilities. We're excited to expand on this feedback throughout the rest of the year as we build the world's most scalable distributed VR platform. As always, stay tuned to our events calendar and social feeds for more updates.