For remote teams, Zoom and Skype are two of the most recommended communication tools.
You can use both platforms to hold video calls, chat, and host meetings or webinars. And if you're seeking a new platform to help you do these things, you're likely considering both platforms.
Overall, there may not seem to be huge differences between Zoom and Skype. But the decision to implement one over another can still have a significant impact on your team. From our experience as a remote team, we know each platform fits different needs. And that's why understanding the pros and cons is critical to your decision.
Zoom vs. Skype: Which is Best For Team Communication?
When it comes to which platform is better for team communication, it's subjective. Zoom and Skype both have advantages and disadvantages that can help or hurt your team's ability to communicate smoothly.
Zoom Pros
Zoom is a great and popular choice for web conferencing, with over one million meeting participants every day.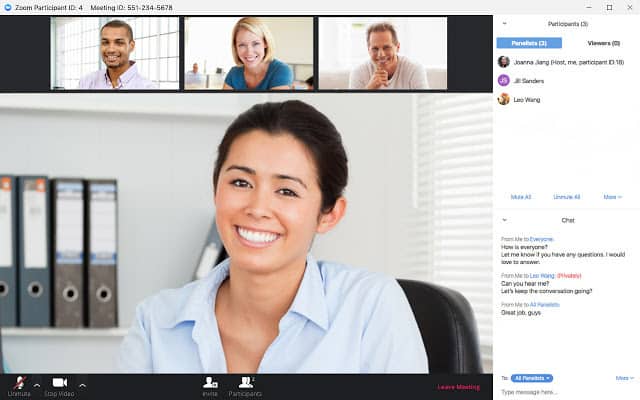 Source: Holistic Communications
Using Zoom, you can:
Conduct live video chat.
Access meeting analytics, such as top users by meeting minutes.
Easily screen-share during a call.
Use the recording feature to save and document your sessions.
Hold brainstorming sessions with Zoom's on-screen whiteboard feature.
Access in-depth support, such as live help, online chat, phone support, FAQs, help articles, and video tutorials.
Hook up integrations such as Slack and Zapier.
Start using for free, as Zoom's free plan lets you host up to 100 participants in a video call.
You can also use Zoom to run webinars. Using a custom registration URL, you can invite attendees to your webinar in Zoom. Thanks to Zoom's recording feature, you can also save your webinar and reuse it again.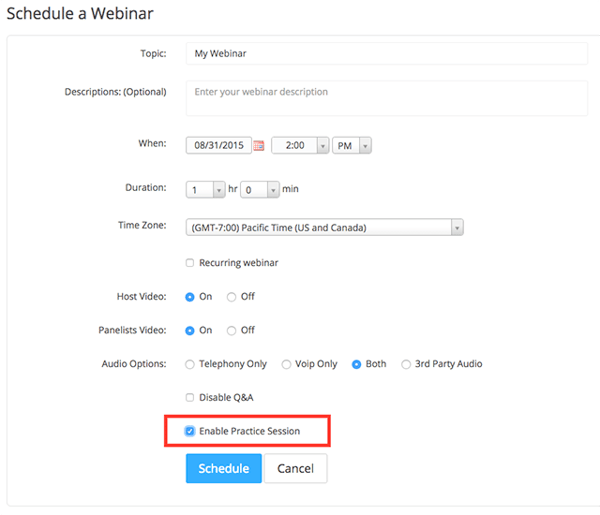 Source: Zoom Support
Zoom also provides a lot of opportunities to communicate better with your team on a day-to-day basis. Andrew Pagels, a partner at Investable LLC, uses Zoom to present slide decks, videos, and pitches, recommending it to teams that hold a lot of video calls. Overall, many Zoom users feel that the platform "has among the best performance of any video conference platform."
Zoom Cons
However, Zoom isn't a perfect tool. If you're considering using Zoom, there are a few things that you should know about relying on the platform.
First, since you pay for Zoom by the host, it can get expensive for larger teams. The cost depends on which tier you choose, such as pro vs. business vs. enterprise. Pro starts at $14.99 per month/host and goes up to $19.99 per month/host.
Second, while Zoom has some innovative features, such as white-boarding, polling, and remote control, users report it's difficult to use. Craig Riley, SVP of IT systems and application development at Graebel Companies, Inc., finds that "sometimes the chat features are not available when in a meeting."
Another disadvantage of Zoom, according to many users, is the poor, unpredictable video quality. Video on Zoom is often blurry and pixelated.
"The audio and video quality can deteriorate to the point of unusability," says Richard, a Zoom user. "For me, this happens every time I use it for some part of the conference I am in."
Skype Pros
In general, Skype is an excellent communication tool. Not only is Skype popular with businesses, it's a great tool for connecting with friends, family, co-workers, and clients from all over the world. Best of all, Skype For Business will soon become a part of Microsoft Teams, a communication platform with similar features to Slack.
For companies already using Microsoft products and Skype, this could be a game-changer, especially when you consider all of Skype's rich features.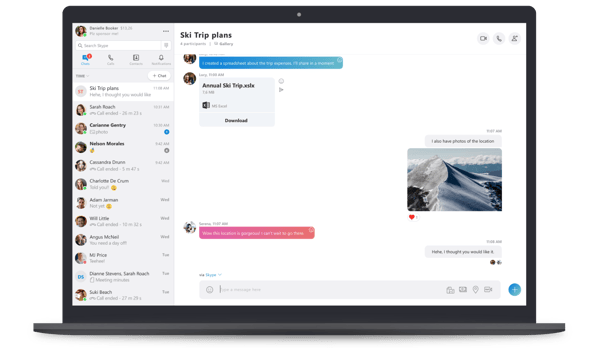 Source: Skype Blog
With Skype, you can:
Use IM, hold video chats, and make local, domestic, and international calls.
Conduct both screen and document sharing that supports large files.
White-board, post a poll, and hold a Q&A session.
Start with the free version, which works well for smaller teams.
Invest in Office 365, which will soon encompass Skype, and get additional business features such as office apps like Microsoft Word, Powerpoint, and Excel.
The connection to Microsoft Teams is the greatest advantage, making it a platform that can easily integrate with tools that your business may already be using.
"Skype is excellent as a stand-alone communication tool, but even better when you use it with Microsoft Suite in your company structure," says Marie, a long-term Skype user. "I used this in some great businesses and found this to be a very useful communication tool."
Skype Cons
Skype has technical hiccups that prevent it from reaching its full potential. Despite having better video and audio than Zoom, Skype is known to freeze up.
"Skype freezes up a lot and causes disturbances in the video which I hate," says Noor, a Skype user. "Oftentimes I have to end my call and call again. It's not good quality and takes away from the meeting experience."
Users also note that it's difficult to get help or support with Skype, which is surprising since it's all under the Microsoft umbrella. Additional feedback regarding disadvantages includes the amount of bandwidth the platform takes up, connectivity issues, and Skype's clunky, hard to use UX. It's still one of the better tools out there, but due to the disadvantages, Skype still leaves a lot of users wanting.
The Future Of Remote Team Communication
If you're choosing a communication tool and deciding between Zoom and Skype, you'll find both tools have their advantages. Skype is better for teams looking for a holistic business solution. Zoom is a better fit for teams that have frequent video chats and meetings.
What If Video Conferencing Apps Had Spatial Audio?
Grab a pair of headphones and watch this video with the sound on. This video was captured live from a real meeting. You'll even be able to hear the difference with desktop speakers, but is best with headphones on.

As the video switches back and forth between the original Zoom audio and High Fidelity's Spatial Audio, you'll notice it's easier to make out the words when two or more people talk at the same time when the audio is spatialized. Over the course of the day, it really makes a difference in reducing fatigue and enjoying conversations.
Learn more about how we did it, and the science behind spatial audio...